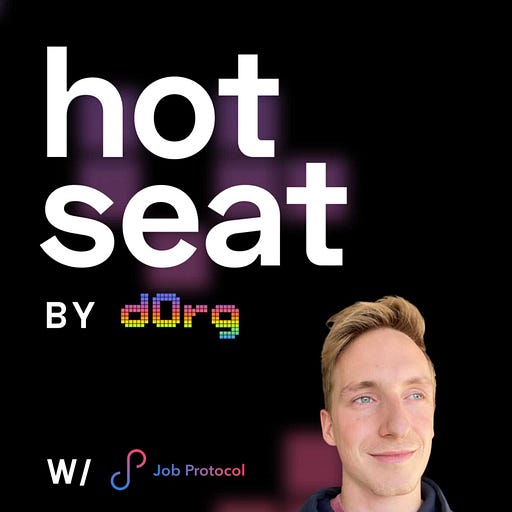 Apr 28 • 22M
dOrg Hot Seat Podcast | EP 15 ft. Job Protocol
The dOrg Hot Seat is a tech podcast with audio-video format, where top blockchain projects can showcase their latest releases to us (dOrg members) and then we ask highly technical related questions and debate the answers.
Crypto Hiring, Decentralized: Job Protocol Cofounder Boris & dOrg Members Talk Talent in Web3. Boris shares the inner workings of the Open Recruitment Network.
Get answers to burning questions like:
- How does Job Protocol incentivize talent partners to find the best candidates?
- What role does AI play in pre-vetting candidates?
- How does Job Protocol help freelancers and agencies monetize their networks more efficiently?
Find out how this unique platform is leveling up the crypto talent game and redefining recruitment for the web3 community.
Stick around for an insightful conversation with dOrg members as they discuss their personal experiences and thoughts on the impact of Job Protocol's innovative approach to talent sourcing. Don't miss their take on:
- Transparent compensation.
- Hiring experience in the crypto space.
- Talent acquisition in web3.
The hot seat is all about the hard questions. 🔥
dOrg https://dOrg.tech
Hire Us: https://www.dorg.tech/#/hire
Join Us : https://www.dorg.tech/#/joins
Discord: https://discord.com/invite/bA9ZM7WXZU
Twitter: https://twitter.com/dOrg_tech
Job Protocol https://www.jobprotocol.co/