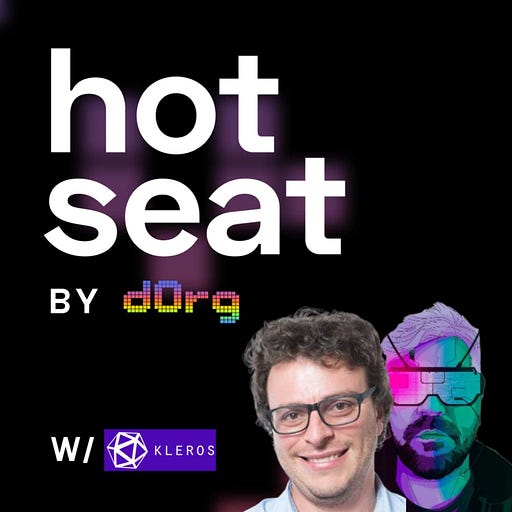 Dec 29, 2022 • 28M
dOrg Hot Seat Podcast | EP 4 ft. Kleros
The dOrg Hot Seat is a tech podcast with audio-video format, where top blockchain projects can showcase their latest releases to us (dOrg members) and then we ask highly technical related questions and debate the answers.
Decentralized Justice: The Future of Dispute Resolution
In this episode of the hot seat podcast, we sit down with Federico and Jay, Kleros's CEO and Engineering Lead, a decentralized arbitration platform revolutionizing how disputes are resolved in the new economy.
We'll explore Kleros's inner workings and how it uses blockchain technology and crowdsourced jurors to provide fair and efficient resolution for various industries.
From smart contracts and online marketplaces to peer-to-peer lending and crowdfunding, Kleros is helping to bring transparency and fairness to the global economy.
In this episode, Federico and Jay will share their vision for the future of dispute resolution and how Kleros is leading the charge. Please tune in for an insider's look at this innovative platform and its impact on legal arbitration.
Subscribe and share dOrg https://dOrg.tech
Hire Us: https://www.dorg.tech/#/hire
Join Us : https://www.dorg.tech/#/joins
Discord: https://discord.com/invite/bA9ZM7WXZU
Twitter: https://twitter.com/dOrg_tech
Kleros https://kleros.io/
Kleros Twitter: https://twitter.com/kleros_io?lang=ca
Federico's Twitter: https://twitter.com/federicoast
Jay's Twitter: https://twitter.com/JayBuidl
#web3 #blockchain #dao #development #smartcontract #web3podcast #fullstack