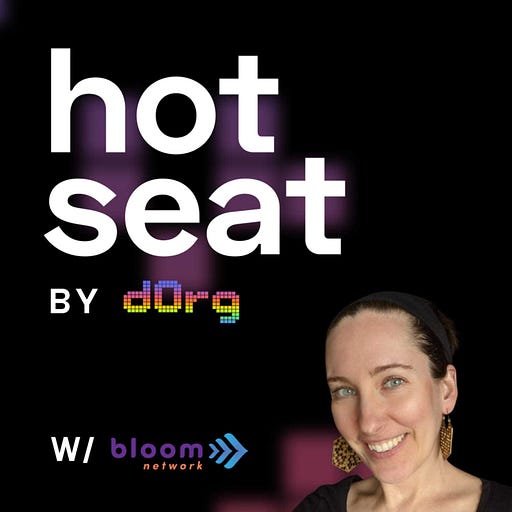 Jan 5 • 25M
dOrg Hot Seat Podcast | EP 5 ft. Bloom Network
The dOrg Hot Seat is a tech podcast with audio-video format, where top blockchain projects can showcase their latest releases to us (dOrg members) and then we ask highly technical related questions and debate the answers.
In this episode of the hot seat podcast, we sit down with Magenta Ceiba, a member of dOrg and the CEO of Bloom Network, an international community of people and projects working towards regenerative cultures.
Bloom Network connects people and existing initiatives, locally and globally, to build capacity and inspire a billion acts of regeneration. We'll discuss the unique vision and values of Bloom Network, including peer-to-peer leadership, autonomy, transformative justice, and mutual support.
We'll also hear about how Bloom Network is helping to accelerate the adoption of regenerative practices and connect people with positive narratives that invite them to create beauty and well-being.
Whether you are interested in food security, local economies, celebrations of diversity, or art as cultural transformation, this episode is as must.
Tune in to learn more about Bloom Network and how you can get involved in building regenerative communities.
Hire Us: https://www.dorg.tech/#/hire
Join Us : https://www.dorg.tech/#/joins
Discord: https://discord.com/invite/bA9ZM7WXZU
Twitter: https://twitter.com/dOrg_tech
Bloom Network https://bloomnetwork.org/
Bloom Network Twitter: https://twitter.com/OurBloomNetwork
Magentas Twitter: https://twitter.com/magentaceiba
BrainfogLLC Twitter:https://twitter.com/BrainfogLLC
#blockchain #web3 #finance #smartcontract #development #fullstack #dao