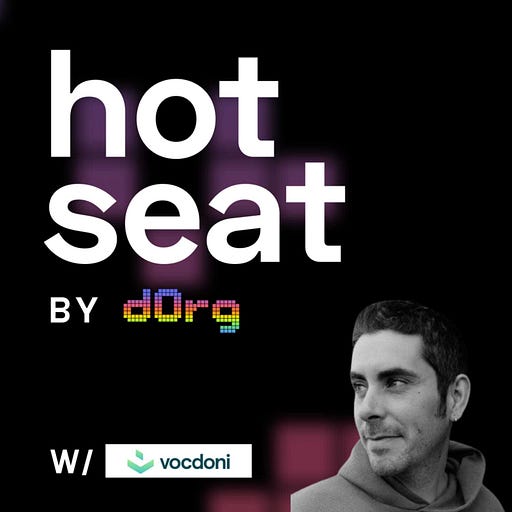 Feb 2 • 25M
dOrg Hot Seat Podcast | EP 7 ft. Vocdoni
The dOrg Hot Seat is a tech podcast with audio-video format, where top blockchain projects can showcase their latest releases to us (dOrg members) and then we ask highly technical related questions and debate the answers.
Join us for the latest episode of our podcast as we sit down with Pau, co-founder of Vocdoni, to uncover the secrets behind one of the most exciting projects in digital voting. This episode is all about the hard questions.
Are you curious about how the power of blockchain technology can transform the way we vote? Do you want to learn how the intersection of cryptography and blockchain revolutionizes how we cast our ballots securely and anonymously?
We will dig into the technical details of Vocdoni's anonymous voting system based on zk-SNARKs and census proof.
In this episode, we'll examine how Vocdoni has overcome the limitations of other anonymous voting systems and why voter anonymity is crucial to ensuring secure, transparent voting.
Join us for a fascinating discussion with the experts and discover the future of digital elections.
Subscribe and Share!
dOrg https://dOrg.tech
Hire Us: https://www.dorg.tech/#/hire
Join Us : https://www.dorg.tech/#/joins
Discord: https://discord.com/invite/bA9ZM7WXZU T
witter: https://twitter.com/dOrg_tech
Vocdoni
Pau, Vocdoni CTO